A friend of mine is working with a demolishing company. He called me last Monday at 13:00 to let me know they were about to demolish a building in which, among other stuff, were two electrically operated overhead garage doors. So, until 5:30 before getting dark, I had to check the doors, decide if I wanted them, get the money they were asking, disassemble both and arrange for a truck to carry them back home. With such a short notice, I couldn't see it hapening.
But it did.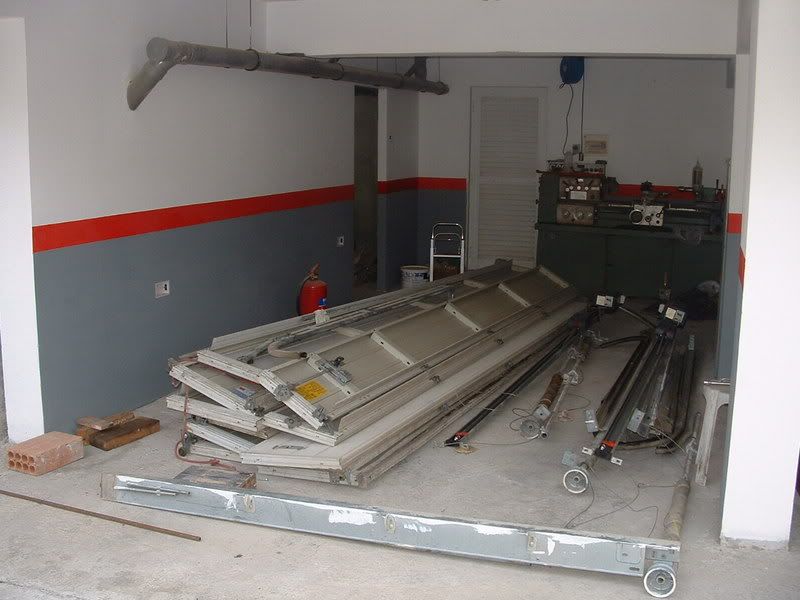 What an odyssey that was.
With help from a friend we managed to have it on the truck by 18:00, just right on time.
Garage doors in Cyprus are uncommon sight since they are way too expensive. A quick research showed that a couple of doors of this size would cost the best part of £6000. I got them for £270 (€300). They are 4,80m wide and 2,20m tall. Which brings us to my problem. The dimensions of my garage openings are 3m each. I think I can cut the aluminum panels to measure but I'm not sure if the springs can be winded back to work correctly with 2/3 of the initial weight. I'd like to hear if anyone would like to share any knowledge or experience on this.
Here are some shots I took with my mobile before we took them apart.