I know u lot love to hear my stories so here goes
Bought meself a new baby
1987 Lotus Excel 31k 2.2 lump 100% standard
[img][img]http://i213.photobucket.com/albums/cc272/MarkyB1964/Lotus.jpg[/img]
[img][img]http://i213.photobucket.com/albums/cc272/MarkyB1964/Lotus1.jpg[/img]
[/img]
[img][img]http://i213.photobucket.com/albums/cc272/MarkyB1964/Lotus3.jpg[/img]
[/img]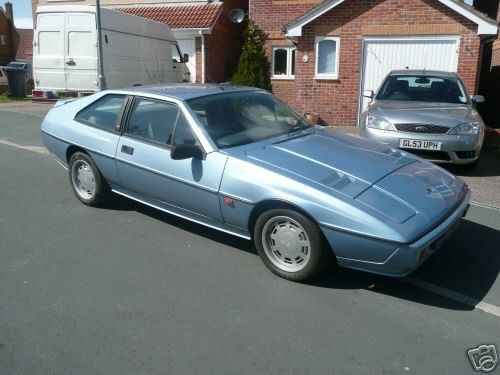 [img][img]http://i213.photobucket.com/albums/cc272/MarkyB1964/Lotus5.jpg[/img]
[/img]
[img][img]http://i213.photobucket.com/albums/cc272/MarkyB1964/Lotus7.jpg[/img]
[/img]
Wot u reckon? apart from the headlining sagging which is a common fault with these its near on concourse condition.
well i was driving her home after buying her and sat at a crossroads a women in a 4x4 opposite awaiting to go straight across and me wanting to turn right she pulled out so i started to, then she decided nope i am going to turn across my path luckily i stopped but the numpty behind me didn't so a major bang resulted. i sat in my car for a few moments fearing the worst believing half the rear end of my car being wiped out. i got out to be greeted by wot looked like a 12 year old kid who had just jumped out of a near new M3. I looked at the rear of mine smashed rear cluster small amount of paint scuffing and slightly bent exhaust not really bad at all. The kiddy in the M3 (£1800 in damage)was shouting i have only had this car 2 days i shouted i can top trump u there m8 i have had mine 2 bloody minutes u numpty.
anyways long story short luckily in the boot of the car was a spare lens correct side as the one he hit was already cracked. kiddy with persuasion was going to give me £500 to not go through insurance his dad came rnd to check me out and saw the other 4 cars in my drive and said do u buy and sell cars i said no i just buy them
he said do u want to buy a impreza WRX i said not really how much u want? turns out the kiddy got given M3 by mummy (they were loaded) and just left his old car (WRX) on daddies drive cos he was bored of it he payed over 4k for it 9 months previous so i said ok forget the 500 squid i will give u 1k for the scooby as a joke - he said yep i just want it off my drive so Lotus repair cost me nothing just a bit of time and i got a 4k scooby for 1k
Result or wot ?
_________________

Marky - Plastic Fantastic!!!!!