Covin wrote:
Quote:
Quote:
I think we need to see a few more pictures of those vehicles in the Covin Gallery and VW section matey... That Bug looks the biz... Get's my vote Come on, less Lurking and more Posting
So OK Darren here's the first one............
This is the birth of
BRUTUS!
, formerly named Bruce, but not really appropriate any more in his current guise (apologies to any real or imagined Bruce on the forum).
When he arrived - Oct.03
My son Zac's (13 at the time) comment was "you won't recognize it for long, I know my dad", another of his comments on the way home was " take it easy Dad, it's not the Porsche". Guess he actually expected me to slow down for round-a-bouts (IRS handles real well!). Car was initially bought for my eldest daughter Michaela (15 at the time) as her first car. This was after MUCH investigation as to her personal taste in cars. Hadn't personally played with VWs in over 20 years. 2 days after buying it we passed a hand painted Kombi (Bay window) & she said " Oh I really LOVE Kombi's" (could have throttled her).
Anyway after I refused to paint it PINK (I already had 7 liters of Midnight Blue Metallic), she lost all interest & hasn't been behind the wheel yet, only got her Learners permit as a proof of age card to get into Pubs/clubs.
Her loss.
Soon after (gesture is my son objecting to being in the photo)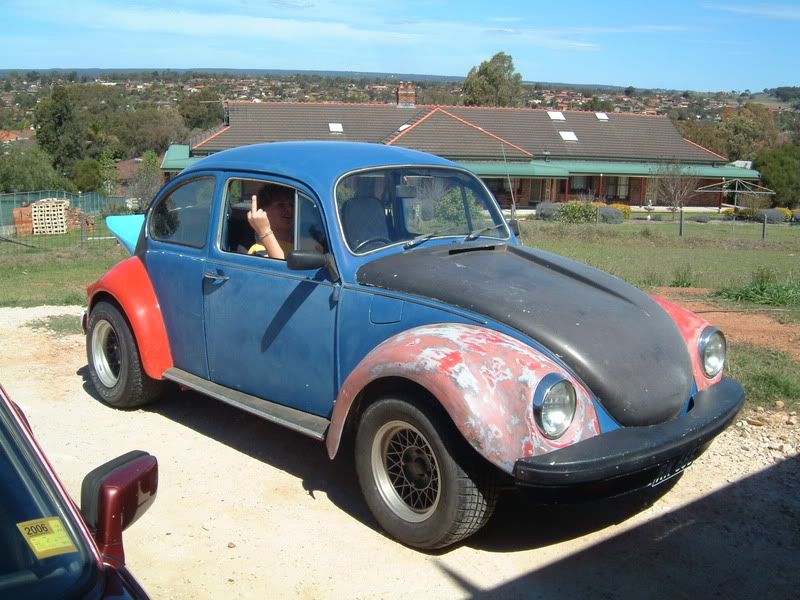 Mainly cosmetic, lots of bits swapped for alcohol & from Breakers or Swap meets. Great like that the VW crowd.
Jan 06, start to teardown for paint.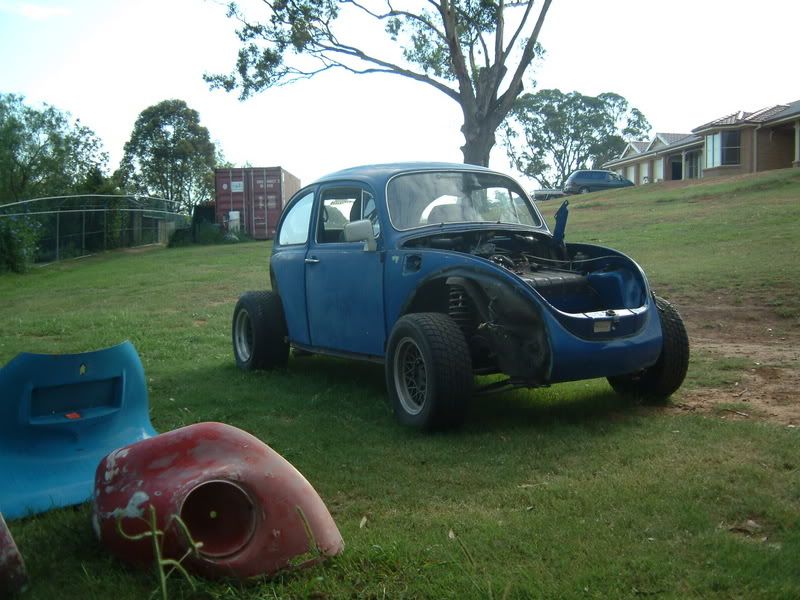 This was initially a to be a bonding/learning exercise with my son, now 16.
So he went out and got himself a job (a little help here) as a mechanic at the local VW workshop, END of exercise as he now had NO time to work with me. Bruce stayed like that for about 6 months while I kept kidding myself I had the time (between work commitments) to raise the priority of his respray.
He was Urgently put on the road again when my wife broke (big time) her car. I have six registered vehicles in the driveway & she will only drive HERs & maybe Bruce under duress. She's a school teacher & her students always love it when she takes one of MY cars to school - "WOW Cool Car Miss!". My wife doesn't like the attention.
OK so now my son is of driving age & needs a car, he's embarrassed by the 'Noddy Mobile' (Multi Coloured Mess), so I OK him to repaint, as long as he helps sand the CRAP off when I do have time for his real paint Job.
Nov06 til Now - Enter BRUTUS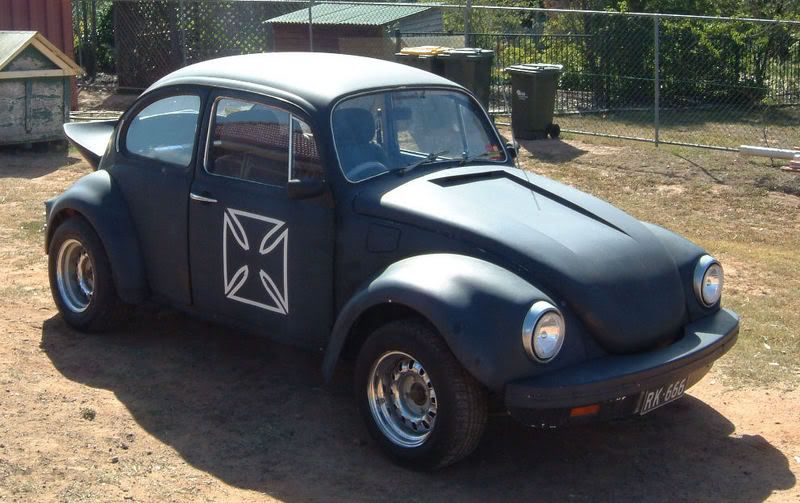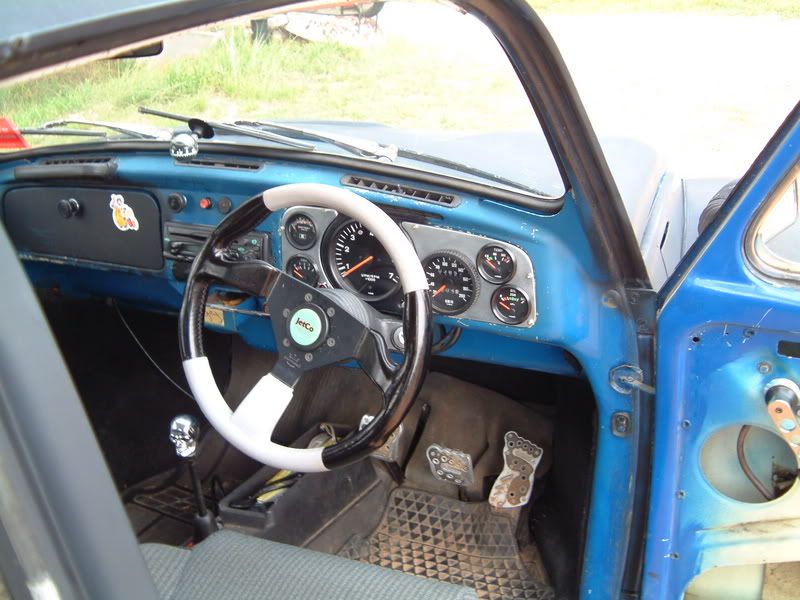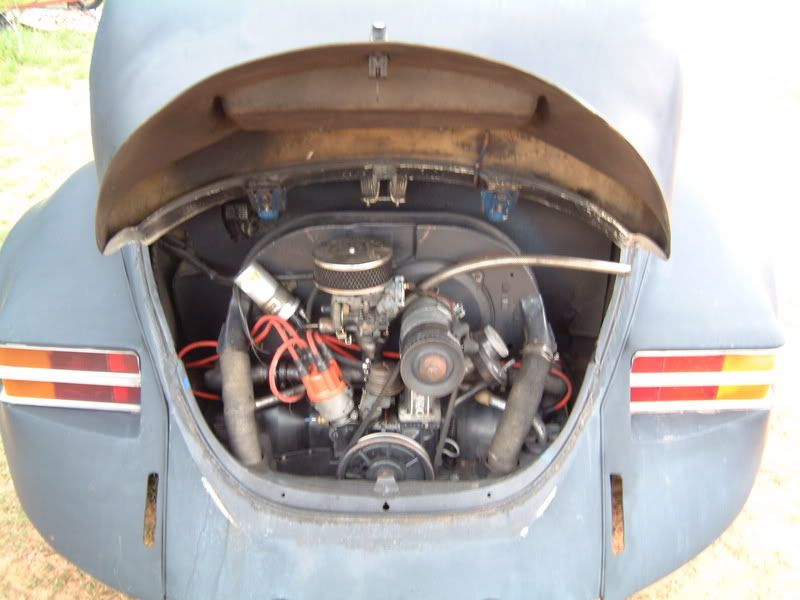 He then spent 2 nights (and 6 rattle cans of satin black) painting. The crosses were my idea to 'tick him off', which didn't work, as even though he now has his own car, he still regularly borrows Brutus, maybe because I pay for the fuel.
Brutus still needs to be lowered at the front (in progress) & is currently running a fairly standard 1600 twin-port (reliable), BUT some brief specs on his NEW drivetrain (all there just need time)
2275cc Type 1 engine build.
Estimated to produce approx 180hp ++ in street trim, running on 92 octane. Installed into a 1971 SuperBug, & street driven.
CASE: AS21 VW – Mexico (Industrial)
CRANK: 82mm, forged/counterweighted SCAT, VW journals.
RODS: SCAT 'H' beam 5.5" - ARP bolts.
PISTONS & CYLINDERS: 94mm Mahle, forged (graphite coated)
CAM: Web 86B
LIFTERS: Scat Mushroom Lube-a-lobe
TIMING GEARS: Magnum steel - straight-cut – adjustable.
FLYWHEEL: VW, 200mm 12lb
CLUTCH: KEP Stage 1 (1700lb) pressure plate, SACHs 200mm disc
CYLINDER HEADS: MOFOCO '050' D port VW dual-port I=42 E=36 S/steel
CARBURETORS: 2 X Weber 45 IDF – 40mm venturis
ROCKER ARMS: CB solid shaft 1.4:1 – swivel foot @ pushrod
Deep Sump
HEADERS: 1-1/2", long merge Stainless (polished)
Trans Beefed up Close ratio 'L'Bug Transmission
Oh! I've also decided to leave the severely faded 'BAD GIRL' sticker on the back window, just to add to peoples confusion …………………………..
SeeYa,
Rainer